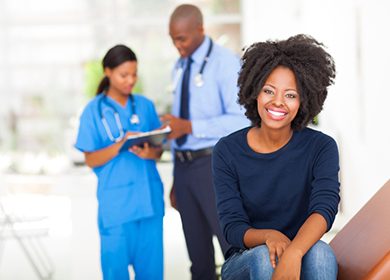 Bond Community Health Center is committed to insuring the health and well-being of women and girls in Tallahassee and the surrounding areas.  As such we see all women and girls of any age who have problems with specific women's health issues or other concerns about which they are more comfortable discussing with women.
Our permanent staff includes:
Ms. Blonza Washington, MA, who coordinates schedules, provides counseling for anyone, but more especially pregnant women
Marianne Towler, Nurse Midwife, Family Nurse Practitioner, who sees patients for a wide range of issues as listed below
Pricilla Vidal, OB case manager, who links expectant families to additional health and social support services
Dr. Dwight Hooper, Ob-Gyn., who comes as a physician and consultant for all women, but especially for women with serious complications or in need to surgery or hospital intervention. 
Dr. Rayavarapu ("Dr.Rao"), Pediatrics, Immediate care of the newborn by
We also have a number of fine nurses who assist us when needed.
The following are some of the services we provide at Bond:
Annual complete physicals, including the gyn physical
Pregnancy care

Prenatal and postpartum care
Birth at TMH with Dr. Hooper and others in his practice
Immediate care of the newborn by Dr. Rao, Pediatrics
Counseling and help through difficult issues surrounding pregnancy

Family planning

Counseling on all methods
Assistance with pills and Nuva Ring
Giving and monitoring Depo shots
Insertion of Nexplanon
Insertion of all types of IUD

Gynecology

Following abnormal pap tests
Menopause or pre-menopause problems (or "no, you are not losing your mind!")

Heavy or missing menstrual periods
Infections of all kinds
Abnormal bleeding before or after menopause
Pelvic pain or pain during sexual relations
Early stages of infertility testing
Any other women's health issues that need to be addressed